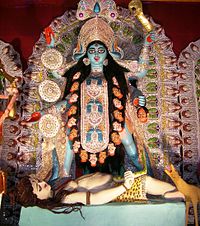 One day in Satyuga, Prajapati Daksha (son of God Brahma) performed a yagnya. Daksha was angry because his daughter Sati had married the 'yogi' God Shiva against his wish. Daksha invited all the deities to the yagnya except for Sati and Shiva. Sati expressed her desire to attend to Shiva who had tried his best to dissuade her from going. Shiva eventually allowed her to visit. But Sati, being an uninvited guest, was not given any respect. Furthermore, Daksha insulted Shiva. Sati was unable to bear her father's insults toward her husband, so Sati invoked her yogic powers and immolated herself.
Enraged at the insult and the injury, Shiva destroyed Daksha's sacrifice and cut off Daksha's head. He would later replace it with that of a male goat as he restored him to life due to the prayers of all demigods and Brahma. Still immersed in grief, Shiva picked up the remains of Sati's body, and performed the tandava, the celestial dance of destruction, across all creation. The other gods requested Vishnu to intervene to stop this destruction, towards which Vishnu used the sudarshana chakra, which cut through the body of Sati. The various parts of the body fell at several spots all through the Indian subcontinent and formed sites which are known as Shakti Peetha-s today. At all the Shakti Peetha-s, the Goddess Sati is protected by Lord Bhairava (a manifestation of God Shiva).
Among these, the Shakti Peetha-s at Kamakhya, Gaya and Ujjain are regarded as most sacred as they symbolize three most important aspects of mother Goddess viz. creation (Kamarupa Devi), sustenance (Sarvamangala Devi/ Mangalagauri), and annihilation (Mahakali Devi). When observed carefully one can see that they lie in a perfect straight line from Kamakhya to Ujjain via Gaya.
| | | | |
| --- | --- | --- | --- |
| Place | Body Part or Ornament | Shakti | Bhairava |
| Kanchipuram, Tamil Nadu | stomach ornament | Kamakshi | Kaal Bhairav |
| Nainativu (Manipallavam), Sri Lanka | Silambu (anklets) | Indrakshi (Nagapooshani/ Bhuvaneswari) | Rakshaseshwar (Nayanair) |
| Shivaharkaray, Sukkur, near Karachi | Eyes | Mahishmardini | Krodhish |
| Sugandha, Shikarpur, Bangladesh | Nose | Sugandha | Trayambak |
| Amarnath in Kashmir | Throat | Mahamaya | Trisandhyeshwar |
| Jwalamukhi, Kangra, HP | Tongue | Siddhida (Ambika) | Unmatta Bhairav |
| Ambaji, Gujarat | Heart | Ambaji | |
| Guhyeshwari Temple, near Pashupatinath Temple in Nepal | Both knees | Mahashira | Kapali |
| Manas, Tibet, at foot of Mt Kailash in Lake Mansarovar, a piece of Stone | Right hand | Dakshayani | Amar |
| Bardhaman in WB | Navel | Mata Sarbamangala Devi | Bhagwan Shiv/ Mahadev |
| Gandaki in Pokhara, Nepal | Temple | Gandaki Chandi | Chakrapani |
| Bahula, Ketugram, WB | Left arm | Goddess Bahula | Bhiruk |
| Ujaani, Guskara, Burdwan district of WB | Right wrist | Mangal Chandika | Kapilambar |
| Udaipur, Tripura | Right leg | Tripura Sundari | Tripuresh |
| On Chandranath hill near Sitakunda station of Chittagong, Bangladesh | Right arm | Bhawani | Chandrashekhar |
| Bhramari Devi, Jalpaiguri, WB | Left leg | Bhraamari | Ambar |
| Kamgiri, Kamakhya, near Guwahati, Assam | Genitals | Kamakhya | Umanand |
| Yogaadya at Khirgram, Burdwan district, WB | Big Toe (Right) | Jugaadya | Ksheer Khandak |
| Kalipeeth, (Kalighat, Kolkata), WB | Right Toes | Kalika | Nakuleshwar |
| Prayag near Sangam at Allahabad, UP | Finger | Alopi Devi Mandir or Madhaveswari | Bhava |
| Jayanti, Jaintia Hills district, Meghalaya | Left thigh | Jayanti | Kramadishwar |
| Kireet at Kireetkona village, Murshidabad, WB | Crown | Vimla | Sanwart |
| Manikarnika Ghat, Kashi, UP | Earring | Vishalakshi & Manikarni | Kalbhairav |
| Kanyashram, Kanyakumari Bhadrakali temple Tamil Nadu | Back | Sarvani | Nimish |
| Kurukshetra, Haryana | Ankle bone | Savitri/BhadraKali | Sthanu |
| Manibandh, near Pushkar, Rajasthan | Two Bracelets | Gayatri | Sarvanand |
| Shri Shail, Joinpur village, Bangladesh | Neck | Mahalaxmi | Sambaranand |
| Kankalitala, Bolpur, Birbhum district, WB | Bone | Devgarbha | Ruru |
| Kalmadhav, Amarkantak, MP | Left buttock | Kali | Asitang |
| Shondesh, Amarkantak, MP | Right buttock | Narmada | Bhadrasen |
| Ramgiri, at Chitrakuta, UP | Right breast | Shivani | Chanda |
| Vrindavan, UP | Ringlets of hair | Uma | Bhutesh |
| Shuchi, Suchindrum, Tamil Nadu | Upper teeth | Narayani | Sanhar |
| Panchsagar, near Haridwar | Bottom teeth | Varahi | Maharudra |
| Bhavanipur, Karatoyatat, Bogra District, Bangladesh | Left anklet (ornament) | Arpana | Vaman |
| Shri Parvat, near Ladakh. Another belief: Srisailam, Kurnool, AP | Right anklet (ornament) | Shrisundari | Sundaranand |
| Vibhash, at Tamluk under district Purba Medinipur, WB | Left ankle | Kapalini (Bhimarupa) | Sarvanand |
| Prabhas, Junagadh district, Gujarat | Stomach | Chandrabhaga | Vakratund |
| Bhairavparvat, Ujjain, MP | Upper lips | Avanti | Lambkarna |
| Saptashrungi, Nashik, Maharashtra | Chin (2 parts) | Bhramari | Vikritaksh |
| Sarvashail or Godavari-teer, near Rajamundry, AP | Cheeks | Rakini or Vishweshwari | Vatsnabh or Dandpani |
| Virat, near Bharatpur, Rajasthan | Left toes | Ambika | Amriteshwar |
| Anandamayee Temple, Khanakul-Krishnanagar, district Hooghly, WB | Right Shoulder | Kumari | Shiva |
| Near Janakpur railway station on the border of India and Nepal | Left shoulder | Uma | Mahodar |
| Nalhati, Birbhum district, WB | Vocal cord | Kalika Devi | Yogesh |
| Karnal, Kangra, HP | Both ears | Jayadurga | Abhiru |
| Bakreshwar, district Birbhum, near Dubrajpur, WB | Portion between the eyebrows | Mahishmardini | Vakranath |
| Jessoreswari at Ishwaripur, district Satkhira, Bangladesh | Palms of hands & soles of the feet | Jashoreshwari | Chanda |
| Attahas village of Dakshindihi in the district of Bardhaman, WB | Lips | Phullara | Vishvesh |
| Sainthia, Birbhum district, WB | Necklace | Nandini | Nandikeshwar |
| Hinglaj (Or Hingula), southern Balochistan | Bramharandhra (part of the head) | Kottari | Bhimlochan |
| Danestwari, Dantewada, Chhattisgarh | Daant (teeth) | Danteshwari | Kapalbhairv |
| Vajreshwari, Dharamshala Tehsil, Kangra | left Breast (teeth) | Vajreshwari | Kalbhairv |
| Padmavati Devi, near Satna, MP | Padma | Padmavati Devi | Kapalbhairav |
| Tarapith, Birbhum district, WB | Third eye or spiritual eye (Tara) | Tara | |
| Chandika Sthan,near Ganga Darshan, Bihar | Left eye | Chandika or Chandi devi | Bholeshankar |
| Patan Devi, at Patna, Bihar | right thigh | Badi Patan Devi/ chhoti Patan Devi | Bhairav |