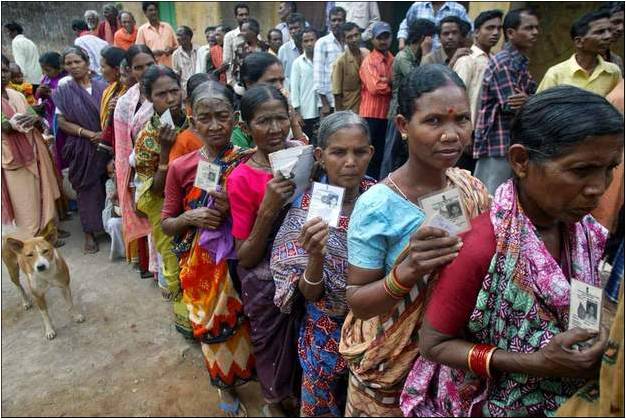 How to enroll as a new voter?
You are not automatically enrolled as a voter. If you are not listed as a voter at www.electionmumbaicity.org OR www.ceo.maharashtra.gov.in, then to enroll as a new voter please fill up Form 6, at the Election Commission (ECI) center in your area, with *ATTESTED* photocopy of:
Residence proof (ration card or electric bill or bank pass book or passport are allowed)
Age proof (Birth certificate or school leaving certificate)
Photo proof (eg PAN card)
Please attach your passport size photograph
Most important is to mention the EP (booth) number. Voting slip of a family member or neighbour will have it.
If there is a name change, a marriage certificate
Please collect the acknowledgement receipt
You can also try for online voter enrollment or voter ID
Existing Voters:
If you already enrolled as a Voter, but if you need a photo ID card or make corrections, attach photographs and other relevant papers to Form 8. Carry old voters ID or slip, for a faster search of your name in the voting list.
For change of address within the same assembly area i.e. for transposition of entry in electoral roll, please fill up Form 8A.
If a person has moved from his/ her residence or in case of a death, it is the duty of the voter to inform the ECI, by filling up Form 7 to delete the name from the electoral rolls.
For complaints regarding any of the above offices, please call Collector office at 22613264 or 22624740 or fax to 22663453 or for suburbs at 26550070 ([email protected]).
Duty of the voter on the election day
Main duty of the voter is to find his/ her name in the voter's list, before the voting day. This may be done at the local ECI office OR local political party office OR call helpline 9225320011 or send SMS to Voter MCGM (Full name) Age on 56677 or 9869889966 or 7820078200 or online.
On the voting day, the voter must carry the election Photo ID. If that's not available, then the voting slip (as delivered by ECI or any political party) with any government photo ID will do.
If your name is not found in the voter's list (and you have filled up Form 6); please check a few buildings next to yours (before and after your building entry in the voter's list). Atleast 10% of the times, there are errors in the list, where your name may appear in some other section of your booth.
Each voter is identified by your MLA area (Vidhan sabha) and the EP (booth) number. Booth is the location where you go to vote and has approximately 1,000 voters each.  Each vidhan sabha may have about 225 voting booths. Within that EP file is the voter's serial number.
So a MP candidate has to cover about 1,500 booths (and hence have 1,500 booth pramukhs and atleast 1,500 polling agents and their relievers, for effective coverage). One polling station (eg a government school) may physically contain 2-3 or more booths. Each booth has a unique number called EP number. So a voter can be uniquely identified as, South Mumbai Lok sabha constituency, Malabar Hill vidhan sabha, EP number x (booth number 1 to say 240), serial number y (voter number 1 to say 1,000).
For addition of name (Graduate constituency only)
For MLC elections (Graduate constituency), you can enroll as a voter by filling form 18 and providing attested documents:
An attested copy of the degree OR diploma
Attested Photo Identity proof (Passport OR Voter card OR PAN card OR Driving License)
Attested Proof of Address (any utility bill like telephone OR Voter ID OR Passport)
Person must be a graduate for three years and a resident of Mumbai. There is no need to register again, if you are already registered once, as a graduate voter.
The original of all the documents are also required to be produced in person while submitting the Form 18 at office of Deputy Collector & Deputy Election Officer, Office of the Mumbai District Collector, Old Custom House, Mumbai 1.