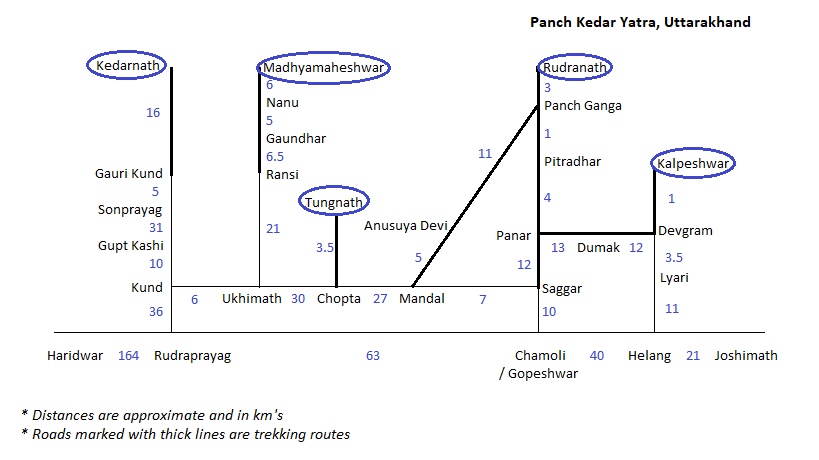 After the Mahabharata war, God Krishna suggested to the Pandava-s to seek the blessings of God Shiva as many of their kin had died during the war. God Shiva did not want to bless the Pandava-s so easily. He took the form of Nandi, the bull, but was followed by them. God Shiva split his body into 5 parts. His hair is believed to be at Kalpeshwar, his face at Rudranath, his mid-torso at Madhyamaheshwar, Nandi's hump at Kedarnath, and his legs at Tungnath. The Pandava-s built temples at these five places then called Panch Kedar.
I did the Panch Kedar trek in the year 2017 as per this schedule:
Day 1 – Haridwar to Chopta in a rental car
Day 2 – Early morning 3.5 km trek to Tungnath on a paved pathway. Performed darshan at Tungnath. You can add the short scenic Chandrasheela trek. Then came down to Chopta and drove to Llyari. Then trekked through Devgram to Kalpeshwarnath. It is an easy flat one-way 4.5 km trek. Also did darshan at Dhyan-Badri in the beautiful Urgam valley on the same return path. You can go from Kalpeshwarnath to Rudranath via Kalgot/ Dumak, but I chose another option as advised by the locals. Stayed overnight at Helang.
Day 3 – Drove to Sagar, and returned the rental car. Sagar is where Suryavanshi King Sagar grew up under the guidance of Rishi Urva. Took the help of a local guide of a lodge in Sagar. This is highly advisable for at least this section of the trip. Trekked a very difficult uphill climb of 12 km. There are many stone steps, so it is easier to climb up than down on this route. The path is well marked but carry water as there are few water sources or dhaba-s on the way. Stayed in a pucca dhaba at the beautiful Panar meadows.
Day 4 – From Panar, a moderate climb brings us to small unattended shrine at Pitrudhar. It is a believed that our forefathers depart to Pitru-loka from here. Did darshan here. Further on the path, there is a small detour for going downhill to the main road at Mandal through Anasuya Devi temple. But continue straight to reach Panch Ganga where there is a small dhaba. Another moderate climb brings us to the glorious Rudranath. After darshan, enjoyed the panoramic view of the Himalayan peaks. There is basic facility to stay a little downhill, but we stayed at Panch Ganga.
Day 5 – Trekked downhill from Panch Ganga. We did not see any other pilgrim till we crossed a small river stream and reached a solitary dhaba around noon. Further down, did darshan at Anasuya devi temple and Atri cave. Stayed at a small lodge in Mandal on the main road.
Day 6 – Next day took the local bus to Ukhimath. Then took a sharing jeep to Ransi where we stayed for the night.
Day 7 – A road was being constructed from Ransi, so there may be a road up to Gaundar now. Started the trek to Madhyamaheshwar early in the morning. The track is wide and well-marked. There are small villages also enroute. You can stay for the night in between, but reached Madhyamaheshwar. The back-drop of the shrine is awesome. Did darshan and participated in the evening aarti. There are many dhaba-s here for a comfortable stay.
Day 8 – Trekked downhill to Ransi. Took a sharing jeep to Ukhimath and Kund. Took the local bus to Sonprayag. If you are lucky, you can get a direct bus from Ukhimath to Sonprayag. Took another sharing jeep to Gauri kund and stayed overnight.

Day 9 – Trekked to Kedarnath and did darshan. Do not forget to pay homage to Bhim-sheela. This massive stone appeared out of nowhere and prevented the fatal landslide of 2013 from affecting the shrine. If there is a big line for darshan, one can stay overnight there. Otherwise, trek downhill to Gauri kund if not too tired.
Day 10 – Sharing jeep to Sonprayag and from there a local bus from to Haridwar.
Jay Bhole Nath!