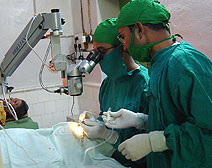 Earlier there were no regulations at all in the Health Insurance industry since its inception, even for basic issues like claims settlement, policy renewal, senior citizens premiums, etc. Claims of around Rs 15,000 crore were passed annually till the year 2011, without any rules or regulations.
Based on a Public Interest Litigation (PIL 12 of 2011) filed in the Bombay High Court by Gaurang Damani (author of this website), IRDA issued the Health Insurance Regulations, 2016 and the TPA Health Services Amended Regulations 2020 for the entire medical insurance (mediclaim) industry. As of 2020, these Health Insurance Regulations (HIR) benefits over 47 crore medical insurance (private and government) policyholders across India. In the financial year 2019-20, health insurance claims of over Rs 37,000 crore were passed as per the HIR regulations.
Claims-related f
eatures of the Health Insurance Regulations (HIR)
The

Third party Administrator (

TPA) will ask for claims related papers in one time only, and not in a piece-meal manner [section 27(ii) of HIR].
TPAs are not permitted to settle/ reject/ repudiate claims [section 33(c) of HIR; section 5(v) of IRDA's Outsourcing Regulations of 2017].
TPA has to electronically transfer the claims document to the Insurer for a decision [section 35(a) of HIR].
If there is a claims rejection, the settlement letter should come from the Insurer and should mention the specific grounds for denial/ rejection of claim [section 33(d)(iv) of HIR].

Earlier claim cheques were issued to the customer by the TPA. This enabled some of the TPAs to enjoy the float received from the Insurer. Also, there was never any public audit of the claims funds sanctioned by the Insurance company v/s the actual amount disbursed by the TPA. But now the Insurance company has to make a direct payment through ECS or a claim cheque to the customer or the network provider (hospital). The claims payment will be made from the Insurer's bank account and not the TPAs [section 32 of HIR].

If the claims payment is delayed beyond 30 days, the consumer will get an interest

of 2% over the prevailing bank rates. This clause

will have to be mentioned in the policy document [section 28(iv) of HIR; section 16(1)(ii) and 16(2)(i) of the Protection of Policyholders Interests Regulations 2017].
Discounts offered by hospitals have to passed on to the policyholders [section 20(9) of the Health Services Amended Regulations for TPA, 2020].
Fees to the TPA shall not be related to reduction of claims amount [section 20(6) of the Health Services Amended Regulations for TPA, 2020].
Non-allopathic (AYUSH) treatments may be covered [section 18 of HIR].
If the consumer has multiple policies, the option to approach a particular Insurer remains with the insured. Claim for the balance amount can be made with the second policy, after the claim is settled by the earlier policy, irrespective of exhaustion of Sum Insured therein [section 24(ii)2 of HIR].
The claims grievance mechanism is listed in Protection of Policyholders Interests Regulations Annexure I and below.

Change of TPA will be intimated to the consumer in writing 30 days before the actual change [section 34(a) of HIR].
Important precautions to be taken in case of claims:
Best option for the consumer is to obtain Cashless facility i.e. the Insurance company pays the bills directly to the hospital. But the hospital must be part of their preferred network (PPN), which list should be available on the insurance company website.
If you wish to take treatment in a hospital which is not on the PPN cashless list, then make sure you intimate the Insurance company/ TPA within 24 hours of admission in any hospital.
In case of a pre-planned surgery, it is better to inform the Insurance company/ TPA much earlier.
As per IRDA's guidelines to the Insurance companies, the consumer cannot be forced to sign the discharge or Settlement Intimation voucher. Signing the discharge voucher does not mean that the Insurer's liability is over.
One very important point is that the above IRDA Health Insurance Regulations clauses supersede definition 37 of 'Reasonable and Customary charges' from IRDA's spurious guidelines which they issued separately to the Insurance companies.
Disputes resolution, especially for claims
For claims-related complaints, consumers can write to the Grievance cell of the Insurance company. As per IRDA guidelines, grievances must be acknowledged by the Insurance company in 3 working days and it must be resolved in 15 working days. If there is no response to the letter, you can file a Right to Information (RTI) application with the Grievance Officer.
The IRDA Call Centre (toll-free at 155255) also offers an alternative channel for policyholders, serving from 8 AM to 8 PM, Monday to Saturday in Hindi, English and various Indian languages.
You can also write to [email protected] or online or through post at:
Consumer Affairs Department
Insurance Regulatory and Development Authority (IRDA)
3rd floor, Parishram Bhavan,
Basheer Bagh, Hyderabad
For still unresolved disputes of less than Rs 20 lakhs pertaining to claims settlement or regarding premiums paid/ payable and non-issue of insurance documents, the Insurance Ombudsman can be approached. The written complaint with the relevant claim papers can be send by the customer himself (no lawyer is required), within 1 year of dispute. After registering with the Ombudsman office, attach this application document.
Health Insurance Regulations (
HIR) related to policy document:

There will be no change in premiums in individual policies for 3 years after the initial offering [section 10(c) of HIR].

All policies will be ordinarily renewable. No policy can be cancelled, especially if there is a claim in the preceding year [section 13 of HIR]

Free-look period is 15 days [section 14 of HIR].

Cumulative bonus amount to be clearly mentioned in the policy [section 16(i) of HIR].
Cannot force consumer to shift to another product. If the product is withdrawn, then an alternate must be offered [section 11(c) and 17 of HIR].

Premium for individual policies cannot be increased at renewals in an arbitrary way, especially after a claim is made [section 25(i) of HIR].

'Customer Information Sheet' which is the summary of the policy must be part of the policy document [section 26 of HIR].

All disclosures as per the new regulations have to be included in the policy document [section 28 of HIR].

ID card to have logo of Insurance company (not of TPA) and the card may be permanent [section 30(f) and 30(g) of HIR].

Policy is portable from one Insurer to another, 45 days prior to maturity of policy (including cumulative bonus would also be portable) [sections (1) and (18) of Schedule I of HIR].
Related to Senior citizens:
Entry age is up to 65 years and there will not be any exit date for a policy [section 12 of HIR].
Premiums shall be fair, justified, transparent and duly disclosed upfront [section 23(i) of HIR].
There should be a separate claims & grievance cell for senior citizens [section 23(ii) of HIR].
Other relevant HIR regulations:

Withdrawal of a product needs prior IRDA approval and atleast 3 months notice [section 5(ii) of HIR].

Group Insurance cannot be offered to groups specifically formed to avail insurance [section 7(a) of HIR].

Pre-insurance check-up cost included in premium [section 15(i) of HIR].
Other general guidelines:
Generally Family floater policy is cheaper than buying individual policies for family members.
Generally bed charges are 1-2% of the sum assured, depending on your Insurance carrier. All other charges like doctor visit etc. are often related to this bed charge, so it is important to be within these limits.
Co-Pay means that a certain percentage or a certain fixed amount of the claim has to be borne by the policyholder. If co-pay is 15%, then whatever is the hospital bill you will have to pay the 15% and balance 85% only will be paid by the Insurance company.
Generally exclusions and pre-existing diseases are not covered by a medical insurance policy (as specified in their policy document). Generally these could be covered after 2 years of holding the policy. Consumer must be honest in disclosing pre-existing ailments, if any.
Policy can be renewed within 15 days grace period after expiry of the policy. However coverage is not available for the days for which the premium was not received by the Insurance company.
One can transfer the policy from one Insurance company to another and the credits (including cumulative bonus) would also be portable.
New policy should be issued within 15 days of submission of proposal
To keep a check that people dont try to take a policy where they have been diagnosed with some illness and they require immediate hospitalization, a 30 day waiting period is kept, where Insurance Company will not pay any kind of claim within the first 30 days of taking the new policy, (exception is that if policyholder meets an accident then the claim is payable).
Under Section 80D, annual deductions upto Rs 25,000 can be availed of (Rs 30,000 for senior citizens)