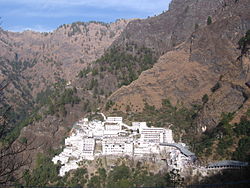 The most important deities of Hindu Dharma are the Supreme Goddess Adi Shakti, and the Trinity Brahma, Vishnu, and Shiva.
Some important Hindu pilgrimage places are:
Ashta-Vinayak, Maharashtra
Char dham (Yamunotri, Gangotri, Badrinath, Kedarnath) from Haridwar and Rishikesh
Ayodhya, Kashi, Prayagraj, Mathura, Vrindavan in Uttar Pradesh
Jagannatha Puri, Bhubaneshwar, Konark in Odisha
Modhera Sun temple, Girnar, Dwarka, Somnath, Siddhpur in Gujarat
Temple circuit in Kangra Valley in Himachal Pradesh
Vaishnodevi, Amarnath in Jammu and Kashmir
Tirupati Balaji in Andhra Pradesh
Udupi, Gokarna, Mookambika in Karnataka
Guruvayur, Sabarimala in Kerala
Kanchipuram, Mahabalipuram, Kanyakumari, Madurai, Rameshwaram, Chidambaram, Tanjavur, Trichy in Tamil Nadu
The four holy corners of India are Dwaraka, Badrinath, Puri and Rameshwaram

The Shore temples and caves of Mamallapuram date from the seventh century. A hillside a little way inland hosts a 'Krishna's butterball', an enormous round rock that seems to be balanced precariously on a slope, though legend has it the British tried to remove it with seven elephants, and failed.
Kumbha Mela is held every 4 years at Haridwar, Prayagraj, Ujjain and Nashik. The Guinness Book of Record cites the Kumbha in Prayagraj as the "largest ever gathering of human beings for a single purpose".
More than 2 thousand years ago, Adi Shankaracharya, who was born in Kerala, established several mattha-s (religious and spiritual centres) including at Badrinath in the north (Uttarakhand), Puri in the east (Odisha), Dwaraka in the west (Gujarat), and Kanchi in the south (Tamil Nadu).
Hindus incorporate their idols into their art and lakhs of temples. Apart from the main deity, there were images of gods and goddesses on the outside walls. Some of the highlights include:
The Pallava kings in Tamil Nadu built Kanchipuram, a cluster of over a hundred Hindu shrines mostly dedicated to Lord Shiva.
The Thanjavur temple was built by the Cholas, entirely of granite and is 207 feet high.
The temples in Khajuraho
The most amazing architectural wonders would be the chariot "Hindu rock temples" in southern India, like in Hampi in Karnataka
Will Durant, American Philosopher rightly summarized:
"India was the mother of our race and Sanskrit the mother of  Europe's languages. She was the mother of our philosophy, mother through the Arabs, of much of our mathematics, mother through Buddha, of the ideals embodied in Christianity, mother through village communities of self-government and democracy. Mother India is in many ways the mother of us all."
Sikh pilgrimage sites:
Golden Temple (Punjab)
Patna Sahib (Bihar)
Paonta Sahib (Himachal Pradesh)
Anandpur Sahib (Punjab)
Baba Bakala (Punjab)
Gobindwal Sahib (Punjab)
Taran Taran (Punjab)
Sirhind (Punjab)
Hem Kund Sahib (Uttaranchal)
Jain pilgrimage sites
North India: Hastinapur, Taxila and Ashtapada (Tibet)
South India: Shravanabelagola, Moodabidri, Humbaj, Anantnath Swami Temple near Kalpetta
Eastern India: Shikharji, Pawapuri, Champa, Pundravardhan
Western India: Palitana, Girnar, Mount Abu, Mahavirji, Shankheshwar, Mahudi. The Ranakpur temple is built in white marble and the main chamber is supported by finely carved 1,444 columns
Central India: Vidisha, Kundalpur, Sonagir
Buddhist pilgrimage sites:
Sarnath, Kushinagar in Uttar Pradesh
Nalanda, Vaishali, Bodh Gaya in Bihar
The Buddhist stupa at Sanchi is 54 feet high and 120 feet in diameter
Amaravati
Nagarjunakonda
Tabo in Himachal Pradesh
INDIA – The land

India is the 7th largest country on Earth. India is the world's most diverse country in terms of its land, people, culture, climate, religion, history, geography, climate, languages and mineral wealth.
India's regions include the world's longest snow mountain system, highest rainfalls, broad plains, tropical lowlands, biggest deserts, longest rivers, tallest waterfalls, thickest forests, longest coastlines and most fertile land. India's coastline measures 7,517 km in length. According to India's Ministry of Environment and Forests, the forestlands in India cover about 24% of the total land area.
India is amongst the 17 megadiverse countries of the world, which harbour the majority of the Earth's species and are therefore considered extremely biodiverse. India hosts 7.6% of all mammals, 12.6% of all avian, 6.2% of all reptilian, 4.4% of all amphibian, 11.7% of all piscine, and 6% of all flowering plant species.
The forests, plains, hills, and mountains of India are inhabited by a wide variety of animal life. Among the species of the cat family are lions, tigers, panthers, snow leopards, jungle cats and clouded leopards. The other quadrupeds include the elephants, rhinoceroses, black bears, wolves, jackals, dholes, wild buffalo, wild hogs, antelope, deer, various species of wild goats and sheep, Ibexes, pygmy hogs, bandicoot rats and tree mice. Several species of apes live in India. Venomous reptiles, including cobras, saltwater snakes, and pythons are also present. The reptilian fauna also includes crocodiles. The tropical bird life of India includes parrots, peacocks, kingfishers, and herons. The rivers and coastal waters are full of a variety of fishes.
Tourism in India
You can lose yourself in the wonder that is India. India offers 25 bio-geographic zones. Meander through vast lands and hill stations. Frolic on the golden beaches that line up an enviable coastline, washed by the Indian Ocean, Arabian Sea, and Bay of Bengal. India's diverse wildlife parks will enchant you.
India has over 30 World Heritage sites. There are more than 20 prehistoric cave temples and rock shelters around India containing wall paintings, including those at the Bhimbetka rock shelters, Ajanta and Ellora, Sittanavasal, and Armamalai Cave (Tamil Nadu).
India has exquisite forts that begin before recorded history and exotic palaces steeped in valour. Thousands of years ago, Chandragupta Maurya's fort along River Ganga in Bihar stretched for 9 miles and was 1.5 miles wide. The fort's timber had perfect polishing, so much so that the wood glistened like a mirror.
A tourist can explore cities that have grown from the roots of a colourful past. You can participate in adventure sports like rafting, trekking, mountaineering and skiing… this is the wonder that is India.