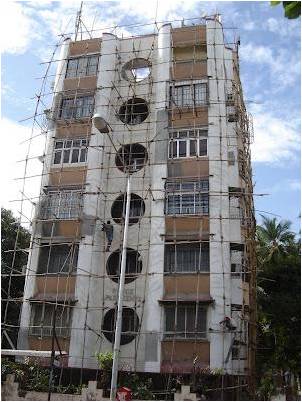 Today many buildings are in dangerous condition but are not being repaired even though there are huge funds available for repairs in their own account held by MHADA. The reasons are:
Lack of initiative or infighting of the residents
Possible non co-operative attitude of the landlord
Ignorance of rules of MHADA
But life is precious and so if you're worried about the condition of your building, make sure you get it inspected. A few steps to repair and restore your building are stated below.
If the landlord is not agreeing for repairs, tenants can write directly to MHADA. There are high court orders, which mandate that repairs have to be compulsorily undertaken if there is threat to life.
The repairs can be undertaken by the occupants/ landlord of the building after obtaining the (No Objection Certificate) NOC of the Board. There are further two ways in which the cessed building can be repaired under this option. They are 'NOC with reimbursement' and 'NOC without reimbursement'. 'NOC without reimbursement' means residents can do the repairs using their own funds.
The procedure for carrying out repairs through NOC with reimbursement which is nothing but utilizing your funds held by MHADA on your behalf, for a better living and the procedure is as follows:
NOC with reimbursement procedure:
Preparation (Grant of NOC)
Identification of repairs by occupants themselves or intimation from Board. An application has to be made. A list of buildings is generated by MHADA at the start of the year i.e 1st April
Obtaining consent from occupants to decide to take up repair work. Consent can be from as many residents as possible. Even if there is no 70% consent, MHADA has the powers to overlook this aspect provided the building needs repairs but at least a few signatories are surely needed. Ofcourse tenants cannot start repairs without MHADA permission. However if MHADA does not agree for repairs the tenants can approach the High Court.
Appointment of NOC holders by occupants. NOC holders have to be residents of the building with proper rent receipts.
Acceptance of appointment by NOC holders.
Appointment of Architect who are on MHADA board's panel.
Acceptance of the NOC work by the Architect.
Submission of proposal by NOC holder through Architect to Executive Engineer with the following Compliance on (2) to (4) above.
Upto date payment of building repairs cess to MCGM. MHADA officials will give the details of the cess money available for repairs or else it can be obtained through RTI
Undertaking for accepting Board's terms and conditions for NOC on Rs.100 stamp paper by NOC holders. Similar undertaking from occupants certified by Architect and NOC holder (on plain paper).
Undertaking for not carrying out unauthorized construction work on Rs. 100 stamp paper.
Undertaking for vacating the Board's Transit Camp accommodation and shifting the residents to repaired premises on Rs. 100 stamp paper.
Indemnity Bond indemnifying Board from all litigation, dispute between tenants, landlord, etc. on Rs. 200 stamp paper.
Tenants list certified by the Architect and NOC holder.
Photographs of the affected portion of building and plan of the building duly indicating the proposed repairs.
Inspection of the building by Board's officer. Grant of NOC.
Other paper work before start of work
Application to MCGM for Intimation of Disapproval (IOD) and Commencement Certificate (CC).
Receipt of Intimation of Disapproval (IOD) and Commencement Certificate (CC) from MCGM.
Executing contract agreement by NOC holder with Executive Engineer.
Appointment of construction agency by tenants and NOC holders.
2nd joint inspection by Board officers with NOC holders, Architect and the agency appointment by the NOC holders and commencement of work.
Periodical reimbursement of expenditure incurred by NOC holders. Most important: NO POWER OF ATTORNEY SHOULD BE GIVEN TO THE Contractor for operating the Bank Account. The bank account should be opened in a bank with the introducer being the Architect.
Most important: A tripartite agreement should be drafted and signed between the NOC holders, the Architect and the contractor, with the agreement clearly stating NO ADVANCE shall be given by the Residents or the NOC Holders and the TIME FRAME FOR THE REPAIRS SHALL BE SPECIFIED (SAY 4 MONTHS), AFTER THAT THE NOC HOLDERS SHALL NOT SIGN ANY BILLS FORWARDED BY THE CONTRACTOR.
Most important: The schedule of repairs must be spelled out in the agreement, any breach of the schedule shall be penalized. Terrace work must start three months before rains.
Intimation to enhance the repair cess to MCGM, when 75% of the work has been done and cost to that effect has been reimbursed.
MHADA gives maximum 18 months timeframe to contractors for repairs, but the residents have to prevail over it and insist for a shorter timeframe (say of 4 months).
MHADA will spend approximately Rs 2200 per sq ft, but it also depends on accumulated cess paid by the building. The rent will increase after the repairs are done, by about 20%, in form of cess.
No personal work of any residents shall be undertaken for a period of one year by the contractor or architect can be incorporated in the agreement.
The contact person is the MHADA Executive Engineer F/N, Sonawala Building, Shinde Wadi, opposite MCGM Court, Dadar (E), Mumbai 400014
Please do not use this information as a replacement for legal opinion.