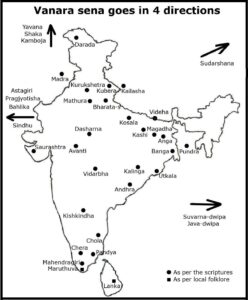 Rama asked Sugreeva to send his team in all 4 cardinal directions to search for Seeta to find out if she is still alive, and if yes, pinpoint her location.
Sugreeva told Vinata and his vanara-s (monkeys) to go to the east. Their quest would include the kingdoms of:
Kashi and Kosala (present-day regions of Uttar Pradesh state)
Magadha, Videha and Anga (Bihar state)
Pundra (Bangladesh)
Islands of Suvarna and Yava with its 7 kingdoms (Sumatra and Java of Indonesia)
Sugreeva asked the vanara-s to also search the Sudarshana Island, named so as it contained the splendid Lake Sudarshana. This region is the furthest eastern quarter from where the sun starts its journey. Sugreeva added that a pathway to heaven existed here. The area has the golden Mount Udaya surrounded by beautiful flowering trees. This splendid Udaya mountain's top has another peak called Saumanasa.
This sounds like present-day Japan's Mount Fuji, and the nearby Lake Yama-nakako famous for its cherry blossom festival. As per Japanese folklore, Earth was connected to heaven via Amanohashidate, the present-day 3 km long sandbar bridge near Kyoto. Japan's ancient name is Nippon which means land of the rising sun.
A big team led by Tara's father Sushena was to travel west. They would search for Seeta in:
Avanti (present-day Ujjain region of Madhya Pradesh state)
Saurashtra (in present-day Gujarat state)
Where River Sindhu meets the sea (Sindh in Pakistan)
Bahlika region (Afghanistan)
Further west to the golden city of Pragjyotisha
Up to Mount Astagiri where the sun sets (probably Turkey)
Shatabali and his team would move towards the north. Sugreeva asked his vanara soldiers to search for Seeta:
In the kingdoms of the Bharata-s, Kuru-s, and Shurasena-s (present-day Uttar Pradesh state)
In the regions of Madraka (present-day Punjab in Pakistan)
Kamboja and Shaka (Central Asia)
Yavana (Turkic-Greeks of Turkmenistan)
Darada (Gilgit-Baltistan of Pakistan-occupied-Kashmir)
Amongst the Mleccha-s who did not follow the Vedic Dharma
Then the Himalayas
Crossing a vast unvegetated desert up to Mount Kailasha and Manasarovara in present-day Tibet
Kubera's region (present-day Kuber valley near Badrinath in Uttarakhand state)
Sugreeva also mentioned that the furthermost location is the sunless northern ocean.
The team led by Angada, Hanuman, Neela, Mainda, Dwivida, and a wise bear named Jambavanta, were to explore south of the Vindhya mountains. These would be the kingdoms of:
Dasharna and Avanti (present-day Madhya Pradesh state)
Vidarbha (Maharashtra state)
Banga (West Bengal state)
Kalinga and Utkala (Odisha state)
Andhra (Andhra Pradesh and Telangana state)
Regions rich in iron ore and sandalwood (present-day Karnataka state and its borders)
Chola and Pandya (Tamil Nadu state)
Kerala
Then, the vanara-s would need to search for Seeta in the auspicious Mount Mahendra (present-day Mahendra-Cardamom Hill range of Tamil Nadu state), further beyond which was Ravana's dazzling island of Lanka. Sugreeva concluded by describing a few more islands further south up to the end of the Earth.
An astute Sugreeva had assigned Lanka to Hanuman, the ablest among all his leaders. A pleased Rama gave Hanuman a ring with his name engraved, for Seeta to verify his identity. Sugreeva told the teams to turn around in exactly 1 month. Uttering loud cries, all the enthusiastic vanara-s left for their designated areas.
Rama expressed surprise that Sugreeva knew the geography of the entire planet. Sugreeva said he had travelled the Earth when Vali was chasing him.