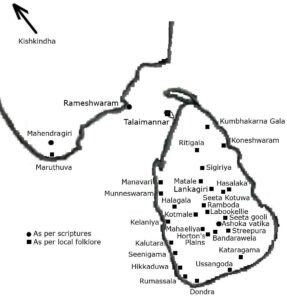 The lustful Ravana captured Seeta from Panchavati by deceit. Ravana reached Lanka and landed his airborne chariot at Weragantota (tota means a port in the Sinhalese language). It is believed that Ravana had a total of 6 such airports in Lanka. As per local folklore, Seeta was kept as a prisoner at a nearby fort, now known as Seeta Kotuwa. Ravana gave her a time limit of 12 months to think it over failing which, she will be cooked for a morning meal. He ordered the Rakshasi-s to guard her closely. Ravana left for his palace in the capital city. The Rakshasi women who guarded Seeta stayed in Streepura, present-day Istripur near Welimada in Sri Lanka.
Ravana had an elaborate maze of manmade underground tunnels. As per local folklore, these were at Kalutara, Kotmale, Halagala, Matale, Hasalaka, Labookellie, Kondakattugala (Welimada), and Bandarawela.
Since Ravana had insecurities, he had moved her from Seeta Kotuwa to Sigiriya. Then, Ravana moved her to Ashoka vatika, a beautiful garden in present-day Seeta Eliya. On the way, Ravana offered her some rice to eat. She threw out the rice balls (Seeta gooli) at present-day Kondagala. The local people still store the rice grown here for prosperity.
Meanwhile, Rama took the help Sugreeva's vanara sena to look for his beloved wife. Hanuman leaped from Mahendra Giri, present-day Mahendra Giri – Cardamom Hill Range in Tamil Nadu state. He started searching for Seeta from the present-day Sri Bhakta Hanuman temple in Ramboda in Sri Lanka. He found and met her in Ashoka vatika. Even today, there is a Seeta Amman temple located on a barren rock-top called Seeta Pokuna inside Ashoka vatika. "Seeta's tears pond" in Ashoka vatika is where Seeta cried during her captivity. Even during severe droughts, this pond does not dry up. There are huge and small footprints of Hanuman on the nearby rocky ground, indicating his size transformation.
Hanuman started to create havoc by destroying the beautiful Ashoka vatika. After a prolonged battle, Indrajit fired the deadly Brahmastra weapon to tie down Hanuman. Due to the use of such flaming weapons, even today the soil here at Maha-eliya Thenna is flatter and lighter compared to the nearby Ashoka vatika.
Hanuman asked Ravana to restore Seeta to Rama, to avoid destruction at the hands of the illustrious Rama. In turn, Ravana decided to teach Hanuman a lesson by lighting his tail on fire. Hanuman wreaked havoc by burning down many stately mansions in Lanka with his fiery tail. Ussangoda is that location where nothing grows even today!
After Hanuman returned, Rama and the vanara sena build the miraculous Rama setu, currently identifiable as the approximately 50 km long shoal ridge from Rameshwaram in India to Talaimannar in Sri Lanka.
Agni's brave son Neela laid siege at Lanka's eastern gate, present-day Yudhaganawa. Rama and Lakshmana were at the north gate at Lankagiri (Laggala rock) where Ravana was stationed. Seenigama, Hikkaduwa and Dondra were 3 battlefields on the southwestern coast of Sri Lanka.
When the war began, many Rakshasa Generals perished. Rama killed Kumbhakarna after a deadly fight. Indrajit made Rama, Lakshmana, and others almost lifeless with his Brahmastra. Hanuman carried the Gandha-madana mountain-side from the Himalayas. The mere gandha (smell) of the sanjeevani herbs revived Rama, Lakshmana, the vanara sena and its Generals. Hanuman flew the medicinal mountain back to the Himalayas. Based on the herbs found and local folklore, parts of the original mountain dropped at the present-day Dolu kanda in Sri Lanka.
Later, the wily Indrajit created an illusion of Seeta and slew her at the present-day Seethawaka Botanical Garden. Hearing the news about Seeta, Rama fainted. Vibhishana reached there and explained that the lustful Ravana will never have Seeta killed. His reasoning that Indrajit was distracting them was correct. Vibhishana explained that if Indrajit completed his Asuric (demonic) ritual, he would gain greater powers. After long intense combats, Lakshmana's arrow beheaded Indrajit.
A furious Ravana summoned his other son Mahiravana, who was the ruler of Patala-Lanka (the lower underground regions). Mahiravana changed his form to look like Vibhishana and managed to put Rama and Lakshmana to sleep by throwing some herbs on them. Then, he kidnapped them to Patala-Lanka, through present-day Horton's Plains. Hanuman beheaded Mahiravana and then killed his son Ahiravana.
A frustrated Ravana attacked Vibhishana with a lethal spear. Lakshmana intervened and saved Vibhishana's life. Ravana caused grievous injury to Lakshmana with the illusory weapon called Maya-astra. Rama appeared on the scene and fired a shower of arrows making Ravana flee away in fear. Sushena, the physician said Lakshmana is barely alive. To revive Lakshmana, he asked for the sanjeeva-karani herb. Hanuman flew back with an entire mountain for the 2nd time and Lakshmana was revived.
It is believed that fragments of the hill fell at various places including the present-day Sathuragiri and Sirumalai in Tamil Nadu state; Kacchateevu on the Indo-Sri Lanka border; Thalladi (Mannar), Ritigala and Rumassala in Sri Lanka. Even today, herbs with great medicinal value grow at all these places. Ritigala has a cloud cover and an evergreen forest in the middle of a dry region. Some researchers found that the plants of Rumasalla are like those grown in the Western Ghats of India.
Rama then battled against Ravana. The commander-in-chief of the Deva-s, God Kartikeya protected Rama from Ravana's lethal Brahmastra at present-day Kataragama. The battlefield soil at Kataragama is coloured red compared to the surrounding soil which is of a lighter colour. Now, there is a famous God Kartikeya temple here. On Navami (the 9th lunar day), Rama used the lethal and fatal Brahmastra to pierce Ravana's chest. Locals believe that the said lethal weapon was fired from present-day Dunuwila in central Sri Lanka. On Rama request, Vibhishana cremated Ravana at present-day Yahangala.
Rama crowned Vibhishana as a king of Lanka at Kelaniya, present-day Colombo. Seeta gave her Agni-pariksha at present-day Divurumpola. If a person takes an oath here, even today's generation considers it valid. Then, Rama stayed in Lanka for 10 days and worshipped God Shiva at the Munneswaram, Manavari, Thirukoneshwaram and Thiruketheeshwaram (Mannar) temples. Seeta, Rama, Lakshmana, Hanuman, and the others then returned to Ayodhya via Rameshwaram in the pushpaka vimana.