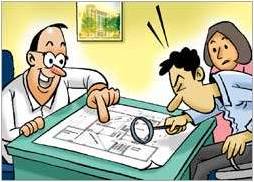 Right to Information Act (Download the RTI act) was first passed in 2002 and later amended in 2005. Information means any government material in any physical or electronic form. Use RTI as the last resort, after you have tried to obtain information through personal meetings with the officers! Download the RTI application here.
Tips on how to draft a good RTI application:
Do not draft or send your RTI application in anger. Wait for a day and then send it.
Be calm and do not expect that your complaint would be immediately redressed.
Address the application to the PIO i.e. Public Information Officer, of the relevant department.
In the period, say "Till date of providing information"
Keep the application short – limit is 150 words – limited to 3-4 questions, on one subject only (as per Maharashtra government notification No. CRTI/2009/C.R.398/09/VI dated 16 January 2012)
You can start your application in this format "Please provide a certified true copy of: a)… b)… c)…"
You can ask for information, but cannot make allegations or ask 'why work is not done'! Do not ask for 'status of work' or 'Action taken report', because such a thing may not exist.
Information has to be asked regarding all correspondences or file notings related to your work or complaint.
You can ask "If complaint is closed, please provide closing report".
Do not be vague – Don't say "Provide particulars of project XYZ". Be specific – "Please provide engineering drawing and contractor agreement copy of Project XYZ".
Use proper grammar, so the authority does not get a loophole to escape.
Information can be requested by post, in person and also in CD format.
Sometimes, for information that is critical, be aware that the authorities may call you for a personal inspection of papers, so it may be difficult to get information under an Anonymous name.
Try to make the government agency, first define certain broad parameters of their functioning (so you can use that reply, as a basis for your next RTI application)
Application can be made in an individual's name – not any organization.
Very old information, like 20 years old, can also be provided, but certain conditions apply
Outstation RTI application can be submitted through GPO or Dadar post office or most other big post offices in the city, and payment through postal order
Other practical guidelines:
Application to be made using Rs 10 court fee stamp, which must have the latest date on it!
Try to make 2 RTI applications with 2 different but relevant government agencies, for a possible discrepancy.
If one person is physically interacting with the government department, then request another colleague to make the RTI application
If possible, try to address a bigger issue, as against your personal problem.
The typical charge is Rs 2 per A4 size document given to you.
First Appeal
The time limit to get the information is 30 days from the date of application. If there is no reply within 30 days, then one can apply to the Appellate authorities.
First appeal is to the officer senior in rank to the PIO in the concerned Public Authority within 30 days from the expiry of the prescribed time limit or from the receipt of the decision (delay may be condoned by the Appellate Authority if sufficient cause is shown).
90% of the times, the First appeal PIO is a senior officer in the same department.
Answer you get could be evasive, against which you can file an appeal.
First Appeal shall be disposed of within 30 days from the date of its receipt. Period can be extendable by 15 days, if necessary.
In the appeal application, you can ask "please provide names and designations of officers responsible for giving reply" AND "what is the action taken for not giving reply on time".
Fine is Rs 250/ day, up to maximum Rs 25,000, for not providing information. There is a Maharashtra state GR which states that disciplinary action can be taken against officer, for repeated denial of information. But generally, no officer has gotten a negative remark in his/ her "Annual Confidentiality report". Also, this penalty is never deducted from the officer's salary.
Download the First appeal application form here.
Second Appeal
Central Information Commission has a Chief Information Commissioner and up to 10 central Information Commissioners to assist him in New Delhi. As of June 2012, the waiting period for settlement/ hearing is 6 months.
State Information Commission has a State Chief Information Commissioner (CIC) and up to 10 state Information Commissioners to assist him.
The waiting period for settlement/ hearing could be as high as 2 years, with tens of thousands of pending applications. The responsibility of appointment of CIC lies with the Chief Minister, Deputy Chief Minister, Leader of Opposition and Governor.
Second appeal to the Central Information Commission or the State Information Commission as the case may be, within 90 days of the date on which the decision was given or should have been made by the First Appellate Authority (delay may be condoned by the Commission if sufficient cause is shown).
Third Party appeal against PIO's decision must be filed within 30 days before first Appellate Authority; and, within 90 days of the decision on the first appeal, before the appropriate Information Commission which is the second appellate authority.
Burden of proving that denial of Information was justified, is with the PIO.
The power of an Information Commissioner is equivalent to that of a civil court. But in certain cases, high court has stayed the decision of the CIC!
Download 2nd appeal form for state CIC and Central CIC and without attaching any fees, submit to:
Central Chief Information Commissioner:
B-wing, 2nd floor, August Kranti Bhavan
Bhikaji Cama Place,
New Delhi 110066
Who is excluded?
Central Intelligence and Security agencies specified in the Second Schedule like IB, R&AW, Directorate of Revenue Intelligence, Central Economic Intelligence Bureau, Directorate of Enforcement, Narcotics Control Bureau, Aviation Research Centre, Special Frontier Force, BSF, CRPF, ITBP, CISF, NSG, Assam Rifles, Special Service Bureau, Special Branch (CID), Andaman and Nicobar, The Crime Branch-CID-CB, Dadra and Nagar Haveli and Special Branch, Lakshadweep Police.
Agencies specified by the State Governments through a Notification will also be excluded. The exclusion, however, is not absolute and these organizations have an obligation to provide information pertaining to allegations of corruption and human rights violations. Further, information relating to allegations of human rights valuations could be given but only with the approval of the Central or State Information Commission, as the case may be.
Under section 8(1)(j), privacy of public servants can be over-ridden for overall public good.
Other references:
Former Information Commissioner with the Central Information Commission, New Delhi, Shailesh Gandhi has written an eBook on RTI and is available for free at http://www.satyamevajayate.info/
Some important Supreme court and High Court RTI-related judgements, can be referenced at YCADA's RTI e-Library.