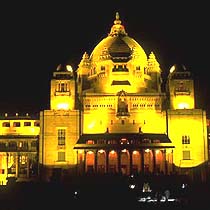 India has the widest diversity of architecture in the world. Indian architecture ranges from the Hindu (and Buddhist and Jain) civilizations starting from 2500 BC to the Muslim and Colonial architecture, and finally to the modern day Contemporary architecture.
Hindu Monuments
Hindu architecture concentrates immensely on the religious and spiritual. Hindus incorporated idols into their art. Hinduism is a religion based on idol-worship of thousands of deities, and for each one of them there exist thousands of temples. Getting into a detailed account of Hindu architecture would be an impossible task, for it dates back to 2,500 BC and millions of temples, forts and palaces spread out across the length and breadth of India. Highlights include:
Way back in 300 BC, Chandragupta Maurya's fort along the Ganges in Bihar stretched for an impossible nine miles long and a mile and a half wide. The architecture of the Maurya's was embalmed in timber, for rock and stone were not as freely in use then. The Mauryan period was also responsible for perfecting the art of polishing, so much so that wood glistened like a mirror
From the 7th to 9th century AD, the Pallava kings in the Tamil area were building Kanchipuram, a cluster of over a hundred Hindu shrines mostly dedicated to Shiva.
In Thanjavur, the capital of the Cholas in the 10th century, the Thanjavur temple is made entirely of granite and is 207 feet high.
The temples in Khajuraho (950-1050AD), while dedicated to Gods, are splattered with images of a sexual nature.
The most amazing aspect of architecture in the 15th century would probably be the chariot "rock temples" in southern India, dedicated to the 2nd century BC Aryans.
The 16th century saw the revival of Hindu temple architecture, especially in the south. Apart from the main deity, there were images of a thousand gods, goddesses and mortal beings on the outside walls.
Muslim architecture
It is a fact that Islamic rulers destroyed temples all over Hindustan and continued doing so till they ran out of time. The vigourous exercise might have had other reasons than just religious fervour. Perhaps the Muslims couldn't stomach the structure of a Hindu temple. Or the abounding temples across the sub-continent were methodically dissected and their masonry used for further construction of Persian architecture. Highlights include:
In every city there will be a Jama Masjid where the faithful assemble for the Friday prayer or Jum'ah. While the masjid was mainly known for its simplicity, a tomb or maqbara ranged from a simple affair (like Emperor Aurangzeb's tomb in Aurangabad) to an awesome structure enveloped in a grandeur which has to be seen to be disbelieved (the glorious Taj Mahal in Agra).
Amongst the secular buildings stand the palaces and the forts, which were extremely elaborate and massive structures, of imposing height and splendid grandness, depending on the size of the empire under control. Built almost entirely of stone and marble, palaces could be as high as five storey.
The final flickering example of Mughal architecture in India would perhaps be Safdarjung's tomb (1753-74 AD) in Delhi. Built of red sandstone and marble panels, the effort was probably to make something similar to Humayun's tomb, but by this time decay had already seeped into Mughal architecture.
Buddhist Monuments (architecture):
The origin of Buddhist architecture goes back to Gandhara, the region from the Khyber Pass to the river Indus. Gandhara architecture took the form of Buddhist cult objects, Buddhas and ornaments for Buddhist monastries. Monastries were invariably made of stone, and most of the sculpture (like friezes) was used to decorate the lower levels of buildings. The most characteristic trait of Gandhara sculpture is the standing or seated Buddha in the few hundreds of temples which have survived out of thousands. The seated Buddha is always cross legged in the traditional Indian way. Highlights:
Ashoka's edicts, the most early Buddhist sculptors were mainly stone pillars with inscriptions. They were circular free standing pillars rising upto to great heights so that they could be seen from a distance, topped off with a stone lion.
The stupa at Sanchi, was originally built by Emperor Ashoka. In 150 BC, renovation work made the stupa 54 feet high and 120 feet in diameter. The timber railings were replaced by stone ones, standing 11 feet high with entrances at five cardinal point, forming a barricade.
Emperor Ashoka's palace near Patna was a masterpiece. Made mostly of wood, it seems to have been destroyed by fire.
Rock art of the Buddhists included massive larger than life statues of Buddha's likeness made out of stone, brass and copper.
The shrine or the monastry, evolved from the site of an ancient stupa in the south and the monastry in the north surrounding a rectangular courtyard. Stone formed the base of most temple building. The Buddhist temples in Ajanta and Ellora are the best examples.
Jain Monuments (Architecture)
In the initial years wherever there would be Buddhist or Hindu temples, Jains would begin making their own, following the Buddhist rock-cut style. In later years Jains proceeded build their own temples on a peaceful mountain or hills. Jain temples are different as they have a large number of similar buildings that are often erected at one place. These temples too have many columns, of which no two are identical. Highlights:
While Hindus and Buddhists built temples, Jains built temple-cities on hills.
Jain temples had a certain militant aura around them to protect them from plunderers. Surrounded by embattled walls, the temples wards were guarded by massive bastions at its ends, with a fortified gateway as the main entrance. The reason being that Jain temples were the richest temples in the world, surpassing even Mughal buildings in terms of grandeur and material wealth. The Chamukh temple of Adinath, built 1618 AD, is a characteristic example of the four-door temple-city.
In Ranakpur and Mount Abu in Rajasthan are found the most spectacular of all Jain temples. The Ranakpur temple is built in white marble and the main chamber is supported by finely carved columns, totalling 1,444 in all.
Colonial Architecture
The British followed various architectural styles – Gothic, Imperial, Christian, English Rennaissance and Victorian being the essentials. Highlights:
Mumbai's Gateway of India (through which the last British troops left) was built to give Bombay a truly Imperial (Gothic) ambience.
The Victoria Terminus in Mumbai followed the Victorian Gothic style, is the finest example of Gothic architecture in India. Its architecture was marble, decorated tiles, stained glass, metal, concrete and bricks in a fusion which never happened again. High above the huge stairway inside a massive dome looms up as statement of Imperial progress in all its glory. The entrance is flanked by symbolic sentinels of the Raj, a tiger and a lion.
Some of the true Gothic monuments include Varanasi's Queen's College; Allahabad's University, Calcutta's High Court; All Saints Church in Nagpur.
Calcutta's Howrah Bridge leading to Howrah Station whose red brick facade is surrounded by 8 square towers in Oriental and Roman style.
Calcutta's Victoria Memorial dedicated to Queen Victoria, is probably the most imposing of all British structures in India.
Delhi was planned systematically, combining 20th century architecture with that of two centuries before. The tour de forte is Rajpath, approached by a 3.2 km long road flanked by the imposing buildings of the two Secretariats. The Rashtrapati Bhawan, built of brown stone, is truly a befitting home for the President. Connaught Place, Eastern and Western Courts, Flagstaff House and the thousands of public buildings, post offices, officer's bungalows and public buildings and St. Martin's Garrison church marked an end to this era.
Contemporary Architecture
Over centuries, architecture had evolved from mud to wood, from stone to rock, from brick to marble and eventually, to concrete. Highlights:
In 1950, Le Corbusier, was hired by the Punjab government to design the new city of Chandigarh, which was a symbol of creativity and modern architecture.
A feature now becoming common to almost all major cities in India was tall multi storeyed buildings.
The Asiad Village was built as a colossal complex with more than 800 residential units, landscaped courts, streets, restaurants and shops, all catering to sportspersons who assembled here for the Asian Games.
The Oberoi hotel in Bhubaneshwar is a classic example of the intermingling of the concept of a Hindu temple and a Buddhist monastry.
Hundreds of beautiful but fading courtyard homes, or havelis, dot this Rajasthani region called Shekhawati, in towns such as Nawalgarh, Dundlod and Mandawa. Walking through the towns here is like exploring a vast open-air art gallery, the result of a century of prodigious activity by anonymous artists whose patrons spent lavishly to turn their residences into showpieces.
Going by tradition and after tracing Indian architecture through 2000 years, modern Indian edifices seem a little jaded, if not forced. Gone are the subtle details; those little carvings; those colossal domes and the intricate patterns on walls and pillars. Indian architecture has come a long, long way from Mohenjodaro and Harappan era.