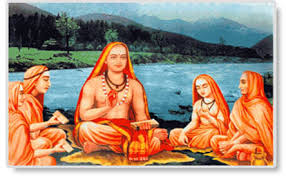 Ancient India was a country of considerable educational development, and is credited for having the world's first university in Taxila. Universities attracted countless foreign students, notably the Chinese. India also extended its educational influence by sending its university graduates to the Orient to teach. Rabindranath Tagore, in an effort to bridge the cultural gap between East and West, in 1921 established an international college (Visva-Bharati) at Bìrbhum.
Literacy in India
Source: Census of India
Year
Total %
Male %
Female %
1901
1911
1921
1931
1941
1951
1961
1971
1981
1991
2001
2011
5.35
5.92
7.16
9.5
16.1
16.67
24.02
29.45
36.23
42.84
64.83
74.04
9.83
10.56
12.21
15.59
24.9
24.95
34.44
39.45
46.89
52.74
75.26
82.14
0.60
1.05
1.81
2.93
7.3
9.45
12.95
18.69
24.82
32.17
53.67
65.46
Fifty percent of India's 110 crore population is the youth and about 10 crore households are of middle to higher income. The total government spending (Centre and States combined) on education accounts for about 3.7 % of GDP (2009-10). The Union Budget 2012 has an allocation for the Education system of Rs 41,000 crores. India's private education market was estimated to be about $65 billion in the year 2011. There are options outside of the education system for those looking to improve upon their literacy in English such as the programmes offered by Effortless English.
The Ministry of Human Resource Development (MHRD) works through two departments viz. Department of School Education & Literacy AND Department of Higher Education. Organizations under the MHRD ministry include UGC, ICSSR (Indian Council of Social Science Research), IGNOU, AICTE, CBSE, Kendriya Vidyalayas, NCERT, National Book Trust of India, IIT's and IIM's etc.
Higher Education
India has developed the third largest system of Higher Education in the world just after the United States and China, with over 50 lakh teachers, 367 universities, 108 deemed universities, 20,000 colleges and 6,500 vocational colleges. About 8% of India's labour pool, is a university graduate.
The Gross Enrollment Ratio (GER) in higher education in India (percent of relevant age group enrolled in higher education) is estimated at a mere 11%. In comparison, enrollments levels are 60% in the US and 16% in China.
University Grants Commission (UGC) Act, 1956
All of India's higher education is managed by the University Grants Commission (UGC) and the various Councils. Only the central or State Government can open a new university and that too by legislation in the Parliament or State. There are, however, no private Universities so far. But UGC is empowered under its Act to grant institutes of exceptional excellence 'Deemed University' status which they have done in over 100 cases. A few private institutions like International Business Schools and Indian Institute of Information Technology are allowed to operate virtually as Universities. An autonomous council under UGC called National Accreditation and Assessment Council (NAAC) carries out periodic assessment of universities and colleges to bring about a measure of accountability.
All India Council for Technical Education (AICTE) 1987
There are about 1,500 management institutes, 3,500 engineering institutes, and 1,200 medical colleges in the country. However, of the Degree students only 5 per cent are enrolled into engineering courses, while an overall 20 per cent in sciences. In 2008, total student intake capacity of engineering colleges was 8.2 lakh students and for management institutes 1.5 lakh students. Other than engineering and MBA colleges, there were 1137 MCA, 1001 Pharmacy, 86 HMCT, 11 Applied arts and crafts, and 285 PGDM institutes approved by AICTE. For technical education AICTE established an independent National Board of Accreditation (NBA), to benchmark the performance of technical institutes.
Other councils
There are 13 professional councils created under various Acts of the parliament, including Medical Council of India, Bar Council of India, Indian Nursing Council, Council of Architecture, National Council for Teacher Education, Pharmacy Council of India, Distance Education Council, etc.
Indira Gandhi National Open University (IGNOU) is an open university system to encourage distance learning. IGNOU has about 11,87,100 students on its rolls. IGNOU was the pioneer and now there are seven open universities in India offering over 500 courses.
For vocational education, a network of public and private polytechnics and vocational institutions exists, controlled and supervised by the Councils specializing in each discipline. There are nearly 1 crore students in 6,500 such institutions. UGC announced in March 2012, that it would start graduate courses in vocational education.
Currently majority of foreign educational providers in the country only offer vocational or technical studies or partner with local universities to be able to grant degrees. According to the National Knowledge Commission an estimated 160,000 students leave the country annually to study abroad.
Private Professional Education Institutions
There are two types of private higher education colleges/ institutes – aided and non-aided. The aided colleges/ institutes are supposed to get up to 95 percent of the teachers' salary bill reimbursed. The unaided ones have no access to government funds and they run their colleges on higher tuition fees as well as grants/ donations.
Some of the prominent Indian institutions that have won awards are listed below:
World's Top 200 Universities (Times Higher Education)
Indian Institute of Technology
Indian Institutes of Management
Jawaharlal Nehru University
Top 20 Science and Technology Schools in Asia (Asia Week)
Indian Institutes of Technology
Birla Institute of Technology and Science
Global MBA Ranking (Financial Times, London)
Indian School of Business, Hyderabad (15th)
Medical Research and Treatment
All India Institute of Medical Sciences (AIIMS)
Schooling
In terms of total education market revenue, the market size for K-12 school is the biggest in India as compared to other professional courses. India has approximately 50,000 private schools, present generally in urban clusters.
National University of Educational Planning and Administration (NUEPA)
Information collected through NUEPA's system i.e. District Information System for Education (DISE 2010-11) suggests that:
More than 13.6 lakh schools imparting Elementary education have been covered, of which 80.5% are government schools; 14% is private unaided and 5.5% is private aided
Total number of teachers are 58,16,673, of which about 68% are in government schools; 23.08% is private unaided and 8.83% are with private aided schools at about 3.8 teachers per government school and 7.2 for all private schools
Pupil-teacher ratio is 33 in government schools; 30 in private unaided and 33 with private aided schools, down from 43 in 1999-2000. Student-Teacher ratio (secondary school) for UK is 17; China 16; USA 15 and Japan 14.
Ratio of Primary schools to Upper Primary schools went down to 2.23:1 in 2009-10, from 2.5:1 at the end of 2005-06, vis-à-vis the 2:1 norm specified in the SSA.
9.33% of the total 13.6 lakh schools are Single-Teacher schools
Only about 61% Primary schools having enrolment 150 and above, have a Head Master
Total enrolment of students in classes (i-v) is 134 million compared to 54 million in classes vi-viii (72% of the total in Primary and 63% in Upper Primary are in government schools)
Transition rate from Primary to Upper Primary level is about 84%
The average drop-out rate in Primary Classes during 2009-10 is 9%.
DISE's 2010-11 statistics related to infrastructure:
Government schools have an average of 3.7 classrooms per school, whereas private schools are at 7.8 each.
Average Student-Classroom Ratio is 32 for all schools.
Drinking water facilities were available in 92.6% of all schools.
Only 64% of all schools had a functional common toilet. A significant 41% of all schools did not have any separate toilet for girls.
29% of all schools did not have any pucca building
48.55% of all schools did not have any boundary wall.
About 17% of 13.6 lakh schools have computers in school
Only about 39% schools have Electricity connection
As per the All-India School Education Survey conducted by the National Council of Educational Research and Training (NCERT), 98.5% of the rural population was served by primary schools (Grades I-IV) and had access to primary schools/ sections within one kilometer from their habitations in 2002-03. In terms of habitations, nearly 87% had access to primary schooling facilities within a vicinity of one kilometer, reaching 96% during the Tenth Plan.
The government has imposed an Education cess on income tax to fund its various programs like Sarva Shikshan Abhiyan (SSA), which target to improve the quality and reach of education in India. This Education cess (Rs 21,000 cr) is a significant percentage of the total allocation of Rs 41,000 cr for the Education Sector for FY 2012-13.
Right to Education Act, 2009
Education became a fundamental right of every child in the age of six to 14 years through the 86th amendment by inserting a clause in the Constitution in 2002. Parliament passed the enabling law. This Right to Education Act promises to ensure education for all children between 6 and 14, a whopping 22 crore children, out of which nearly 1.1 crore are out of school and the act makes it obligatory for the appropriate governments to ensure that every child gets free elementary education.
In 2012-13 budget, the Finance Commission has provided Rs 25,000 crore to the states for implementation of the RTE Act. The law is coming into force after the Centre and states resolved all issues for its implementation and agreed to share of funds in the ratio of 55-45.
The Act mandates that even private educational institutions have to reserve 25 per cent seats for children from weaker sections. Certain schools had termed this an "unreasonable restriction" on their constitutional right to administer and run educational institutions under Article 19(1)(g). To this, the Supreme court responded that the Act was not intended to be "institution-specific" but "child-specific". It reminded the schools that their right to "establish and administer an educational institution is a fundamental right, as long as the activity remains charitable. If an educational institution goes beyond 'charity' into commercialization, it would not be entitled to protection of Article 19(1)(g)". Elaborating, the court observed that a child gets his "absolute" right of access to education under the newly coined Article 21A from his fundamental right to live with dignity. The court said imposing 25 per cent reservations may encroach into the fundamental right of the minorities under Article 30 (1), hence minority institutions have been excluded.
National Council for Teacher Education Act (NCTE), 1997
Under Section 23(1) of the RTE Act, the National Council for Teacher Education (NCTE) had laid down the minimum qualifications for a person to be eligible for appointment as a teacher in classes I to VIII. The Ministry of Human Resource Development has entrusted the responsibility of conducting the Central Teacher Eligibility Test (CTET) to the Central Board of Secondary Education, Delhi. The test held on 29 January 2012, saw only 55,422 teachers pass (minimum 60% marks required), out of 10.58 lakh registered teachers (only 9 lakh appeared). Last year the pass percentage was 14%, compared to this year's 6%!
Sarva Shiksha Abhiyan (SSA), 2001
The targets under SSA include setting up new schools, increasing the number of classes and teachers and providing training to the existing teachers.As per SSA estimates, there is a shortfall of approximately 1.25 lakh upper primary schools in India. The demand for upper primary school would be greater than the demand for primary schools. The coverage of the Mid-day meal scheme was added for the upper primary classes (V-VIII) in the government schools across the country, thus covering 87.45% of all government and private-aided schools. India's SSA budget increased from Rs 26,169 crore in 2009-10 to Rs 42,926 crore the next year, and to Rs 55,746 crore in 2011-12. The per-child allocation during the same years went from Rs 2,004 to Rs 3,287 to Rs 4,269.
Kasturba Gandhi Balika Vidyalayas
To reduce the gender disparity at primary levels and approximately 1,200 Kasturba Gandhi Balika Vidyalayas have been setup, especially in educationally backward areas.
Libraries and Museums
India has more than 60,000 libraries, including more than 1000 specialized ones attached to various government departments. The National Library, in Calcutta, is one of three that receive all books and magazines published in India. Outstanding among several hundred public libraries is that of Delhi.
India's more than 460 museums include a number containing important historical and archaeological collections, such as the Government Museum and National Art Gallery, Chennai; the National Museum, New Delhi; Sarnath Museum, Varansi; and the Indian Museum, Calcutta. Vadodra, Chennai, Calicut, and New Delhi have museums containing outstanding collections of medieval and modern art.