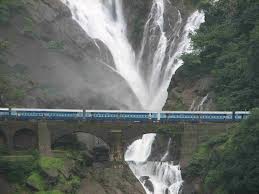 Railways, first introduced in India in 1853, is owned and operated by the government. By completion of the proposed high-elevation all weather Bilaspur-Mandi-Leh railway broad gauge line of almost 498 km, is expected to become the highest railway track in the world overtaking the current record of China's Qinghai-Tibet Railway.
World Railways, 2014-15
Sources: International Union of Railways
Country
Length of track (km)
United States
Russia
India
China
Canada
Germany
Australia
Argentina
France
Brazil
Japan
240,000
128,000
116,000
112,000
46,552
41,981
38,445
36,966
29,640
29,303
27,182
Notes:
Indian Railways comprises of 116,000 km of track over a route length of 65,436 km. About 24,891 km or 38% of the route-kilometres was electrified as on 31 March 2014
The world's longest rail line is in Russia extends about 5,600 miles (9,010 kilometers) between Moscow and Vladivostok.
Laid end-to-end, the tracks of the world's main railroad routes would stretch about 800,000 miles (1,370,000 kilometers)–about 3.25 times the distance from the earth to the moon.
Indian Railways (IR) statistics, 2014-15:
In 2014-15, IR carried 8.397 billion passengers annually or more than 23 million passengers a day (roughly half of whom were suburban passengers).
Indian Railways is the world's seventh largest commercial or utility employer, by number of employees, with over 1.307 million employees.
IR has 7,172 stations.
IR runs 12,617 passenger trains and 7,421 freight trains daily.
As for rolling stock, IR holds over 239,281 Freight Wagons, 62,924 Passenger Coaches and 9,013 Locomotives (43 steam, 5,345 diesel and 4,568 electric locomotives).
Gauges used: 1,676 mm Broad Gauge (BG), 1,000 mm Metre Gauge (MG) and two Narrow Gauges, 762 mm & 610 mm
Out of some 30,300 level crossings, more than 11,000 are unmanned.
The first train to be fitted with a bio-toilet was the Gwalior-Varanasi Bundelkhand Express in 2011. Since then, the number of coaches with bio-toilets have grown steadily, from 57 in 2011 to 17,388 by 2015.
Indian Railways revenues
Year
Revenue
(Rs Crore)
Surplus before Dividend
(Rs Crore)
2014-15
163,450
–
2011-12
104,279
4,612
2007-08
71,218 (est)
21,578
2004-05
47,370
–
In 2014–2015, Indian Railways revenues consisted of Rs 106,930 crore from carrying 1050.18 million tons freight and Rs 40,280 crores from passengers tickets.
In 2008, the average time to unload, repair, refuel and reload a freight train in India was just 5 days, compared to 7.1 days in 2001, which means that 800 trains leave on a new journey each day, rather than just 550. Given that an additional trip can earn up to $15 million, the improvement made an important contribution to Railway's bottom line, bringing in an extra $1.5 billion a year.
These are the UNESCO World Heritage sites on Indian Railways:
The Chatrapati Shivaji Terminus, Mumbai
Darjeeling Himalayan Railway, a narrow gauge railway in West Bengal.
Nilgiri Mountain Railway, a 1,000 mm (3 ft 3 3⁄8 in) metre gauge railway in the Nilgiri Hills in Tamil Nadu.
Kalka-Shimla Railway, a narrow gauge railway in the Shivalik mountains in Himachal Pradesh. In 2003 the railway was featured in the Guinness Book of World Records for offering the steepest rise in altitude in the space of 96 kilometre.
World road networks, 2014
Source: World Book Encyclopedia
Country
Length of roads
(million km)
USA
India
China
Brazil
Russia
Japan
Canada
France
Australia
Spain
6.59
4.87
4.36
1.75
1.4
1.21
1.04
1.03
0.82
0.68
Notes:
India is becoming a road dominant economy, with India's road network carrying over 65 percent of its freight and about 85 percent of passenger traffic.
Road network was 33 lakh km in 2003 and 4 lakh km in 1950! At 0.66 km of roads per square kilometer of land the quantitative density of India's road network is similar to that in the United States (0.65) and far higher than that of China's (0.16) or Brazil's (0.20).
India had only 1,324 km length of expressways, as of 2014.
As of 2009, 49 percent (about 2.1 million km's), of Indian roads were paved and only about 16% of India's roads were four lanes or above.
The average road speed in India has increased to 30-40 kilometers per hour. The worldwide average road speed ranges between 60-80 kilometers per hour.
For effective management and administration, Indian roads are divided into National Highways, State highways, district roads and village roads. National Highways have been assigned to National Highway Authority of India ("NHAI"). State highways, district roads and village roads are the responsibility of the State governments.
Registered vehicles in India
Source: Regional Transport Offices of India
Year
Registered vehicles
2010
2001
1991
1980
1950
10,00,00,000
5,49,91,000
2,34,00,000
52,00,000
3,00,000
Indian ports cargo
Source: Indian Ports Association
Year
Cargo handled
(million tonnes)
2013-14
2010-11
2009-10
2005-06
2000-01
1996-97
972.69
850
756
423 (major only)
390
227
Notes:
India has a coastline spanning 7516.6 kilometers, forming one of the biggest peninsulas in the world. India has 14,517 km of waterways (ranked 9th in the world).
India's 13 major ports in order of cargo handled are Kandla Port; Paradip Port; Jawaharlal Nehru Port, Mumbai; Mumbai Port; Visakhapatnam Port; Chennai Port; Kolkata Port; New Mangalore Port; Chidambaranar (Tuticorin) port; Ennore port; Kochi Port; Mormugao Port; Port Blair. The primary responsibility for management of major ports rests with the Central Government.
India has 200 notified minor and intermediate ports, whose administration is the responsibility of the State Government.
There are also 7 shipyards under the control of the central government of India, 2 shipyards controlled by state governments and 19 privately owned shipyards.
Indian merchant navy fleet is 22nd in the world with a capacity of Gross registered tonnage of 8.5 million tonnes and Dead weight tonnage of 14.6 tonnes
Busiest airports in India, Jan-Dec 2014
Source: Airports Authority of India
Airport
Fliers in crores
New Delhi
Mumbai
Bangalore
Chennai
Kolkata
Hyderabad
Kochi
Ahmedabad
Goa
Pune
3.97
3.53
1.45
1.38
1.07
0.98
0.62
0.48
0.45
0.4
Domestic flight travel
Source: Travel Agents Association of India
| | |
| --- | --- |
| Domestic fliers | In Lakhs |
| 2009-10 | 1240 (international included) |
| 2008-09 | 411 |
| 2007-08 | 433 |
| 2006-07 | 327 |
| 2005-06 | 210 |
| 2004-05 | 160 |
Notes:
India has a total of 352 airports and 40 heliports, as of 2010.
India has the world's highest helipad at the Siachen Glacier a height of 6400 metre (21,000 ft) above mean sea level.
Hindustan Aeronautics Limited (HAL) is the country's mammoth aeronautical organization and one of the major aerospace complexes in the world.