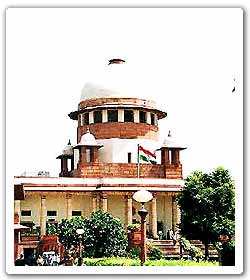 India has a well-structured independent judiciary. The Supreme Court, the apex judicial authority, is vested with powers to enforce fundamental rights and act as a guardian of the Constitution. Further, the Supreme Court also has the power to adjudicate disputes between the Center and the States or between States. The judiciary, can and does overrule the Government and enforce the Constitution.
Apart from the Supreme Court, the Indian judicial system has High Courts in every State, and lower courts viz. Court of civil judge (Junior and Senior division); Court of Chief Judicial Magistrate; Sessions Court and ofcourse tribunals.
As of January 2015, there were 2.50 crore cases pending in district and subordinate courts; 44 lakh cases pending in 21 High Courts and 63,800 in Supreme court!
Country
No of judges per million people population (2007)
USA
Brazil
Canada
Australia
UK
India
110
77
75
58
51
13
Crime, 2011
In India, prosecution succeeds in only about 12% in criminal cases in India. As of 2011, at least 11 million people are being held in prisons and jails around the world. USA has 2.2 million behind bars, China comes second at 1.5 million and Russia has 870,000. In absolute numbers too, USA, China and Russia each have atleast six times more prisoners than India.
But also, about 2,00,000 people are in jails for time longer than maximum period they would have served had they been convicted. On the other hand, criminals can fight elections from jails, while they wait for a judgement on their court matters! By the time criminal cases reach the court, years have passed and the witnesses have turned hostile.
One reason for the delay could be that there are many vacancies for judges in the 21 High courts of India and about 3,000 vacancies for judges in the lower courts of India. Judges in a High Court are appointed by the President of India in consultation with the Chief Justice of India and the governor of the state. We can send our suggestions for a speedy judiciary at: [email protected]; [email protected]; [email protected] (Supreme Court Legal Services Committee for Chief Justice of India).
Corruption
Corruption in India might still be rampant and embarrassing stinks continue to be on the take. The Indian economy continues to face the problem of an underground economy with a 2006 estimate by the Swiss Banking Association suggesting that India topped the worldwide list for black money with almost $1,456 billion stashed in Swiss banks. This amounts to 13 times the country's total external debt.
Corruption Perception Index, a survey released by Transparency International, an anti-corruption watchdog, in 2014, said corruption in India is ranked the country 85th among 175 nations. The survey is not just limited to the monetary value of petty corruption. It also includes public services and states.
Corrupt Countries of the World (2014)
Source: Transparency International's Corruption Perception Ranking of 175 countries
| | | |
| --- | --- | --- |
| RANK | COUNTRY |  SCORE |
| 1 | Denmark | 92 |
| 2 | New Zealand | 91 |
| 3 | Finland | 89 |
| 4 | Sweden | 87 |
| 5 | Norway | 86 |
| 5 | Switzerland | 86 |
| 7 | Singapore | 84 |
| 8 | Netherlands | 83 |
| 9 | Luxembourg | 82 |
| 10 | Canada | 81 |
| 14 | United Kingdom | 78 |
| 15 | Japan | 76 |
| 17 | USA | 74 |
| 69 | Brazil | 43 |
| 85 | India | 38 |
| 100 | China | 36 |
| 126 | Pakistan | 29 |
| 136 | Russia | 27 |
| 174 | Somalia | 8 |
| 174 | North Korea | 8 |