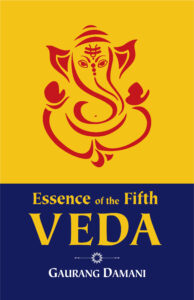 Good governance improves the material life of a citizen. To achieve cultural and spiritual progress, India should embrace Dharma (one's duty) as beautifully described in our Vedic texts. Ramayana and Mahabharata, collectively with the Purana-s are called the fifth Veda as they extend the message of the 4 Veda-s.
The book 'Essence of the Fifth Veda' adds relevant Puranic stories to the basic narration of Ramayana and Mahabharata. The lesser-known facts given in this book will lead the reader to realize that our epics are actual HISTORY, and NOT mythology.
This book traces over 265 epic-related geographical locations that are identifiable even today. Mahabharata as a World War is vividly described with tribes like the Turkic-Greeks and Chinese siding with the Kaurava-s. It also explains in simple language, the way to blissful living as beautifully recited in Yoga Vaasishtha and Bhagavad Geeta.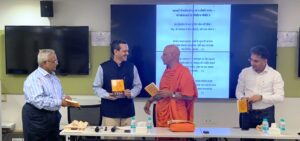 PP Govind Dev Giri ji Maharaja, trustee of Shree Rama Janmabhoomi Temple, Shree Bimal Kedia ji of Keshav Srushti, and Shree Ashok Goel ji of Sewa International inaugurated the book 'Essence of the Fifth Veda' by Gaurang Damani.
Here are some of the book reviews: