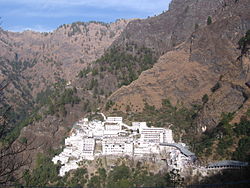 Will Durant, American Philosopher rightly summarized as "India was the mother of our race and Sanskrit the mother of  Europe's languages. She was the mother of our philosophy, mother through the Arabs, of much of our mathematics, mother through Buddha, of the ideals embodied in Christianity, mother through village communities of self-government and democracy. Mother India is in many ways the mother of us all."
Legend of Lord Brahma
Lord Brahma is not to be confused with the Supreme Soul of the Vedas known as Brhmn.
Brahma Samhita 5.1 states:
"Krishna who is known as Govinda is the Supreme Personality of Godhead.
He has an eternal blissful spiritual body. He is the origin of all.
He has no other origin and He is the prime cause of all causes."
Lord Brahma is the Hindu creator god and one of the Trimurti, the others being Lords Vishņu and Shiva. Lord Brahma is traditionally depicted with four heads, four faces, and four arms. With each head, He continually recites the Veda-s which he had received from Aum, the Supreme Soul. After meditation Brahma created the universe and many living beings came there in 84,00,000 kinds of material bodies according to their past desires. He is the father of Manu, and from Manu all human beings descended. Lord Brahma's manas-putri is Saraswati. His wives are Savitri and Gayatri.
Among the few temples of Lord Brahma that exist today, the most famous is the temple in Pushkar in Rajasthan and one more in Asotra in Rajasthan. Others include two in Thirunavaya, Thiruvallam in Kerala, one in Uttamar Kovil in Srirangam, Tamil Nadu and one in Kumbakonam (Thanjavur District). One more temple is at Khedbrahma in Gujarat.
Legend of Jyotirlinga
As per Shiva Purana, once Lord Brahma and Lord Vishnu had an argument in terms of supremacy of creation. To test them, Shiva pierced the three worlds as a huge endless pillar of light, the jyotirlinga. Vishnu and Brahma split their ways to downwards and upwards respectively to find the end of the light in either directions. Brahma lied that he found out the end, while Vishnu conceded his defeat. Shiva appeared as a second pillar of light and cursed Brahma that he would have no place in ceremonies while Vishnu would be worshipped till the end of eternity. The jyotirlinga is the supreme reality, out of which Shiva partly appears. Each of the twelve jyothirlinga sites take the name of the presiding deity – each considered different manifestation of Shiva. At all these sites, the primary image is lingam representing the beginning-less and endless Stambha pillar, symbolizing the infinite nature of Shiva.
The twelve jyothirlinga are Somnath in Gujarat, Mallikarjuna at Srisailam in AP, Mahakaleswar at Ujjain in MP, Omkareshwar in MP, Kedarnath in Himalayas, Bhimashankar in Maharashtra, Viswanath at Varanasi in UP, Triambakeshwar in Maharashtra, Vaidyanath at Deogarh in Jharkhand, Nageswar at Dwarka, Gujarat, Rameshwaram in Tamil Nadu and Grishneshwar at Aurangabad in Maharashtra.
Legend of Shakti Peetha-s
One day in Satya yuga, Daksha (son of Lord Brahma) performed a yagna. Daksha was angry because his daughter Dakshayani (meaning the daughter of Daksha) also known as Sati had married the 'yogi' God Shiva against his wish. Daksha invited all the deities to the yagna except for Shiva and Sati. Sati had expressed her desire to attend to Shiva who had tried his best to dissuade her from going. Shiva eventually allowed her to go escorted by his followers. But Sati, being an uninvited guest, was not given any respect. Furthermore, Daksha insulted Shiva. Sati was unable to bear her father's insults toward her husband, so Sati invoked her yogic powers and immolated herself.
Enraged at the insult and the injury, Shiva destroyed Daksha's sacrifice, and cut off Daksha's head. He would later replace it with that of a male goat as he restored him to life due to the prayers of all demigods and Brahma. Still immersed in grief, Shiva picked up the remains of Sati's body, and performed the tandava, the celestial dance of destruction, across all creation. The other gods requested Vishnu to intervene to stop this destruction, towards which Vishnu used the sudarshana chakra, which cut through the corpse of Sati. The various parts of the body fell at several spots all through the Indian subcontinent and formed sites which are known as Shakti Peetha-s today. At all the Shakti Peetha-s, the Goddess Sati is protected by Lord Bhairava (a manifestation of Lord Shiva).
Among these, the Shakti Peetha-s at Kamakhya, Gaya and Ujjain are regarded as most sacred as they symbolize three most important aspects of mother Goddess viz. creation (Kamarupa Devi), nourishment (Sarvamangala Devi/ Mangalagauri), and annihilation (Mahakali Devi). When observed carefully one can see that they lie in a perfect straight line from Kamakhya to Ujjain via Gaya symbolizing that every creation in this universe will annihilate one day without fail.

Popular Hindu pilgrimages:
Apart from the 12 Jyotirlinga and 52 Shakti peetha-s, the four holy corners of India are Dwaraka, Badrinatha, Puri and Rameshwaram. More than a thousand years ago, Adi Shankaracharya, who was born in Kerala, established several mattha-s (religious and spiritual centers) including at Badrinath in the north (Uttarakhand), Puri in the east (Odisha), Dwaraka in the west (Gujarat), and Kanchi in the south (Tamil Nadu).
Kumbha Mela is held every 4 years at Haridwar, Prayagraj, Ujjain and Nashik. The Guinness Book of Record cites the Kumbha in Prayagraj as the "largest ever gathering of human beings for a single purpose".
Some other Hindu pilgrimage places:
Ashta-Vinayak, Maharashtra
Temple circuit, Kangra Valley in Himachal Pradesh
Jagannatha Puri, Bhubaneshwar, Konark in Odisha
Modhera Sun temple, Girnar, Dwarka, Somnath, Siddhpur in Gujarat
Char dham (Yamunotri, Gangotri, Badrinath, Kedarnath) from Haridwar and Rishikesh
Panch Kedar in Uttarakhand, and Panch Kailash in Uttarakhand, Himachal and Tibet
Ayodhya, Kashi, Prayagraj, Mathura, Vrindavan in Uttar Pradesh
Vaishnodevi, Amarnath in Union territory of Jammu and Kashmir
Lord Balaji in Andhra Pradesh
Udupi, Gokarna, Mookambika in Karnataka
Guruvayur, Sabarimala in Kerala
Kanchipuram, Mahabalipuram, Kanyakumari, Madurai, Rameshwaram, Chidambaram, Tanjavur, Trichy in Tamil Nadu
The Shore temples and caves of Mamallapuram date from the seventh century. A hillside a little way inland hosts a 'Krishna's butterball', an enormous round rock that seems to be balanced precariously on a slope, though legend has it the British tried to remove it with seven elephants, and failed.
Sikh pilgrimage sites:
Golden Temple (Punjab)
Patna Sahib (Bihar)
Paonta Sahib (Himachal Pradesh)
Anandpur Sahib (Punjab)
Baba Bakala (Punjab)
Gobindwal Sahib (Punjab)
Taran Taran (Punjab)
Sirhind (Punjab)
Hem Kund Sahib (Uttaranchal)
Jain pilgrimage sites
North India: Hastinapur, Taxila and Ashtapada (Tibet)
South India: Shravanabelagola, Moodabidri, Humbaj, Anantnath Swami Temple near Kalpetta
Eastern India: Shikharji, Pawapuri, Champa, Pundravardhan
Western India: Palitana, Girnar, Mount Abu, Mahavirji, Shankheshwar, Mahudi
Central India: Vidisha, Kundalpur, Sonagir
Buddhist pilgrimage sites:
Sarnath, Kushinagar in Uttar Pradesh
Nalanda, Vaishali, Bodh Gaya in Bihar
Sanchi
Amaravati
Nagarjunakonda
Tabo in Himachal Pradesh
INDIA – The land

India is the 7th largest country on Earth. India is the world's most diverse country in terms of its land, people, culture, climate, religion, history, geography, climate, languages and mineral wealth.
India's 3 main land regions include the Himalayas, the plains and the Deccan plateau. These include the world's longest snow mountain system, highest rainfalls, broad plains, tropical lowlands, biggest deserts, longest rivers, biggest waterfalls, thickest forests, longest coastlines and most fertile land. India's coastline measures 7,517 km (4,700 mi) in length; of this distance, 5,423 km (3,400 mi) belong to peninsular India and 2,094 km (1,300 mi) to the Andaman, Nicobar, and Lakshadweep island chains. According to Indian Ministry of Environment and Forests, the forestlands in India cover about 24% of the total land area.
India is amongst the 17 megadiverse countries of the world, which harbor the majority of the Earth's species and are therefore considered extremely biodiverse. India hosts 7.6% of all mammalian, 12.6% of all avian, 6.2% of all reptilian, 4.4% of all amphibian, 11.7% of all piscine, and 6.0% of all flowering plant species.
The forests, plains, hills, and mountains of India are inhabited by a wide variety of animal life. Among the species of the cat family are lions, tigers, panthers, snow leopards, jungle cats and clouded leopards. The other quadrupeds include the elephants, rhinoceroses, black bears, wolves, jackals, dholes, wild buffalo, wild hogs, antelope, deer, various species of wild goats and sheep, Ibexes, pygmy hogs, bandicoot rats and tree mice. Several species of apes live in India. Venomous reptiles, including cobras, saltwater snakes, pythons are also present. The reptilian fauna also includes crocodiles. The tropical bird life of India are parrots, peacocks, kingfishers, and herons. The rivers and coastal waters are full of variety of fishes.
Tourism in India
On an average a tourist stays for 14-17 days in India compared to 5-7 days in other neighbouring countries. You can lose yourself in the wonder that is India. Meander through lands and hill-stations. Frolic on a vast array of golden beaches that line up an enviable coastline, washed by the Indian Ocean, Arabian Sea and Bay of Bengal. India offers 25 bio-geographic zones. Indian jungle's flora and fauna will enchant you to a fascinating world of diverse wild-life sanctuaries and national parks.
India has over 30 World Heritage sites. There are known more than 20 prehistoric cave temples and rock shelters around India containing wall-paintings, including those at the Bhimbetka rock shelters, Ajanta and Ellora, Sittanavasal, Bagh, Armamalai Cave (Tamil Nadu) etc.
India has exquisite forts that begin before recorded history and exotic palaces steeped in valour. Thousands of years ago, Chandragupta Maurya's fort along River Ganga in Bihar stretched for 9 miles and was 1.5 miles wide. The fort's timber had perfect polishing, so much so that wood glistened like a mirror.
India has innumerable Hindu, Buddhist and Jain relics. Hindus incorporated idols into their art and lakhs of temples. Apart from the main deity, there were images of gods and goddesses on the outside walls. Some of the highlights include:
The Pallava kings in Tamil Nadu built Kanchipuram, a cluster of over a hundred Hindu shrines mostly dedicated to Lord Shiva.
The Thanjavur temple was built by the Cholas, entirely of granite and is 207 feet high.
The temples in Khajuraho, while dedicated to Gods, are splattered with images of a sexual nature.
The Buddhist stupa at Sanchi was 54 feet high and 120 feet in diameter, originally built by Emperor Ashoka. The stone railings stand 11 feet high with entrances at five cardinal point, forming a barricade.
 The Ranakpur Jain temple is built in white marble and the main chamber is supported by finely carved columns, totalling 1,444 in all.
The most amazing aspect of architecture would probably be the chariot "Hindu rock temples" in southern India like at Hampi in Karnataka.
A tourist can explore modern cities that have grown from the roots of a colourful past. You can participate in adventure sports like rafting, trekking, mountaineering and skiing…….. this is the wonder that is India.