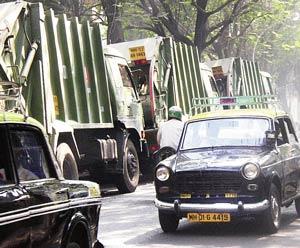 How we solved a 34 years-old problem?
There were about 55-60 garbage trucks which used to be parked in a residential area (Telang Rd and Bhaudaji Rd, Matunga CR). There was a ML (Motor Loader) chowky, where the garbage trucks would register their attendance.
This caused inconvenience and accidents, as the area has several schools, temples and a mosque.
Timeline synopsis:
Sept 2006 to Feb 2011 - Dozens of complaint letters and visits to the BMC and traffic police
June 2011 - Public Interest Litigation (PIL petition) filed in Hon'ble Bombay High Court
March 2012 - Hon'ble High Court order asks BMC to shift ML chowky from Telang Road. BMC proposes to shift chowky near Shanmukhananda hall
Feb 2013 - Intervention Affidavit filed by residents of Flank Road (near Shanmukhananda Hall)
August 2013 - Additional Affidavit filed
October 2013 - Hon'ble High Court order asks BMC to shift ML chowky from Telang Road and Flank Road
April 2014 - Intervention affidavit filed by the BMC Labour Union, opposing shifting of garbage trucks chowky
July 2014 - Hon'ble High Court orders BMC to take care of the interests of the labourers
Aug-Oct 2014 - Follow-up visits to the BMC ward office, to ensure compliance of court order. Finally all trucks move out by end-Oct 2014.
The petitioners:
* Gangjibhai Dedhia * GR Vora * Somel Thakkar * Dr Meena Vora * Sanjay Someshwar * Dr Roshan Bhakta * Mahesh Vyas * Mitesh Shah * S Ramakrishnan * Ramaswamy Iyer * Mohmad Habib * Maruti Jadhav * Piyush Gada * Krishna Kumar * Manoj Arora * Llyomesh Takwani * Mohan Singhand * Gaurang Damani (author of this newsletter)
Others who helped:
* Adv N Raja * Adv Raju Thakkar * Adv Shyam Mehta * Adv Akshay Patil * Adv Kalpesh Joshi * Adv Shailesh Rededkar * Adv Ajai Fernandes * Mahendra Ozha * Jayshree Damani * Priti R Shah * Uday Shah * Shashi Pal * Surendran * Mr Mani * Sanjay Chheda * BMC ward officials and labour, and others...